Segway Ninebot Octane GT2P
Segway Ninebot Octane GT2P
Ninebot

This scooter is exclusively dedicated to being used on the circuit, it is not approved for use on public roads!
The ultimate electric scooter!
This high-tech and high-performance Segway GT2 is the boldest e-scooter you've ever tried.The GT2 features 11-inch tubeless pneumatic self-healing tires, dual wheel drive and adjustable hydraulic damping.The electric scooter has a range of no less than 90 km and a maximum speed of 70 km/h.
With the Segway KickScooter GT2 you push all boundaries.See well and be seen wellTo ensure everyone's safety, the KickScooter has strong LED lights at the front and rear.
A 9 W LED headlight and LED DRL (Daytime Running Light) ensure that you see and are seen well.In addition to the lights, the GT2 comes with certified reflectors on the front, rear and side, making the KickScooter extra visible.Finally, the integrated turn signals provide greater clarity and visibility.
A relaxing or sporty ride: everything is possible!The Segway GT2 scooter offers you a great off-terrain experience.The KickScooter is equipped with front and rear wheel drive, a powerful motor of no less than 3000 W and 11-inch, 92 mm wide, self-healing tubeless pneumatic tires with gel coating.This makes the KickScooter suitable for use on almost any type of terrain with a slope of up to 30%.
Via the mobile app you can choose between front and rear wheel drive, or just one of the two.
Easy to read transparent color LED screenThe GT2 is equipped with a brand new full color and transparent PM OLED dashboard.
A first for KickScooters, where you can read all important information at a glance, such as:your speed and remaining rangethe activated mode (park mode, walk mode, eco, sport, race and boost mode)which lights are on/off (turn signal and headlight)which type of drive is activatedbattery levelcruise controland much more.
A great off-road experience thanks to double damping and STDCThe Segway KickScooter GT2 offers the ultimate all-terrain experience.Thanks to the front and rear suspension and adjustable damping, the GT2 is suitable for any type of terrain:soft cushioning provides stability and comfort when riding at higher speedshard damping is suitable for driving on challenging terrain and bumpy roadsIn addition, the Segway GT2 has traction control, the Segway Dynamic Traction Control (STDC).STDC provides more grip and safety in corners and rougher conditions.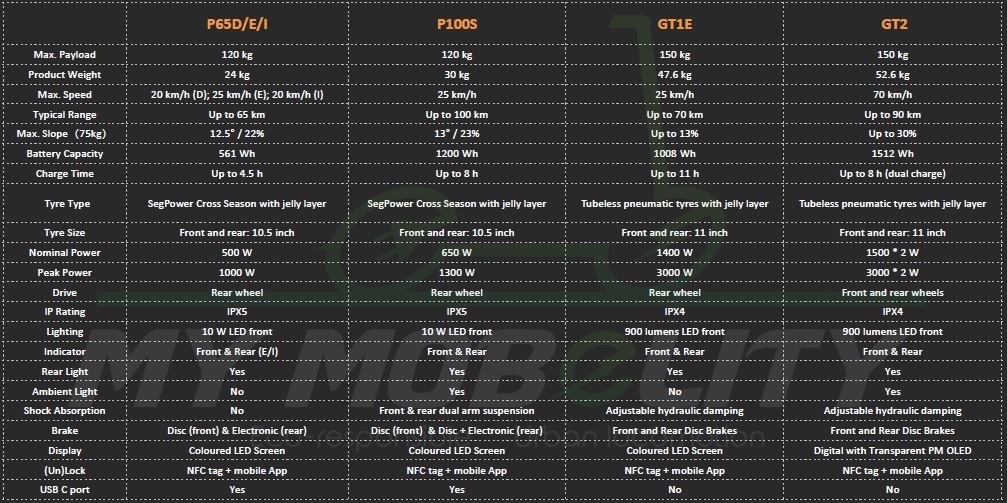 Technical data
Motor
1400 W Nominal - 3000W Peak
Suspension
Adjustable hydraulic damping
Brake type
Front and rear hydraulic disc brake
Kinetic Energy Recovery System
Yes
Led lighting
900 lumens LED front
years warranty on the E-scooter
year warranty on the battery
first service after 200 km free
discount on wear parts after purchase
discount on replacement battery