Segway Ninebot P100S E
Ninebot

During CES Las Vegas 2022 Segway Ninebot briefly presented its new Ninebot P100 electric scooter. According to the manufacturer, the scooter will have a wider deck for your feet, a wider handlebar and wider tires than those already present in its range. The latter should be equipped with turn signals, which is a novelty for Segway electric scooters.

(subject to the availability of the electronic components necessary for its manufacture, given the global shortage of semiconductors).
On the technical side, Segway has provided some information that we detail below:
48V 25Ah battery (probably a 48V, not confirmed, because the given capacity is 1200Wh) for an announced autonomy of 110km, rather expect 60-70km in real conditions.
650W motor located in the rear position, just like the Ninebot MAX G30.
The Segway Ninebot P100 is equipped with front and rear double piston disc brake, so segway would abandon its front drum brake. Just like the Ninebot MAX G30, it will be automatically coupled to the motor's regenerative brake.
Front and rear shocks absobers (oscillating arm suspensions).
A new electric horn will be equipped on the Ninebot P100.
Left and right turning signals that can be seen by users in front and behind you.
The display of the Segway P100 would seem larger than the displays already on board the
Ninebot brand electric scooters, can we expect more information to be displayed on this display?
The folding mechanism appears to be the same as the folding mechanism already present on the Ninebot MAX G30.
10.5 inch tubeless tire for better grip on wet surfaces.
A charging time of around 8 hours.
An NFC card start system, already seen on the Vsett series. No one will be able to turn on your scooter that is parked in the street!
IPX5 rating (wet road resistant, same IP rating as Ninebot MAX)
USB C charging port on the dashboard
We will keep our product sheets updated as Ninebot communicates more information.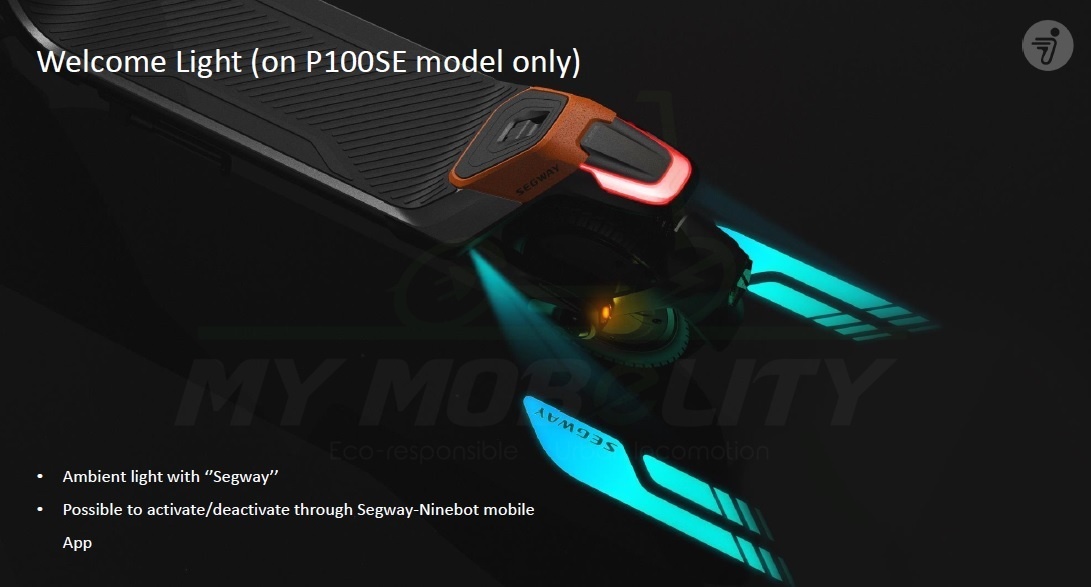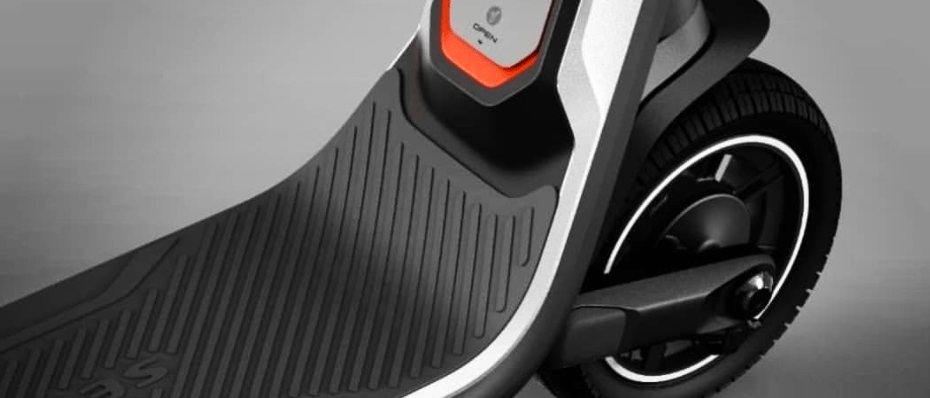 Technical data
Motor
650 W Nominal - 1300W Peak
Brake type
Electromagnetic rear brake + front and rear disc brake
Type tire
Segpower Cross Season 10.5 Tubeless
Charging time
Approx 8 Hours
Kinetic Energy Recovery System
Yes
Dimensions
TBD: 1426cm x 1542cm x 670cm
years warranty on the E-scooter
year warranty on the battery
first service after 200 km free
discount on wear parts after purchase
discount on replacement battery