Ninebot F40E
Ninebot

THE ESSENTIAL ELEMENT TO IMPROVE YOUR DAILY MOVEMENTS!

The Ninebot F40E electric scooter is coming! The F-Series comes with wide 10-inch tubeless tires that give you both comfort and a smooth ride. With an autonomy of up to 40km (we rather estimate 20-25km in real conditions of use), these products will be your new way of getting around with a speed of up to 25 km/h.
Illuminate your journey safely
To ensure the safety of all users, all models are equipped with front LED lights, in addition to rear and brake lights. With the built-in 2.1W front light, you can clearly see your way at any time of the day.
In addition to the lights, all models are equipped with E-MARK certified reflectors on the front, sides and rear of the scooter, allowing you to find your way around easily in low light and windy conditions. to be seen by others.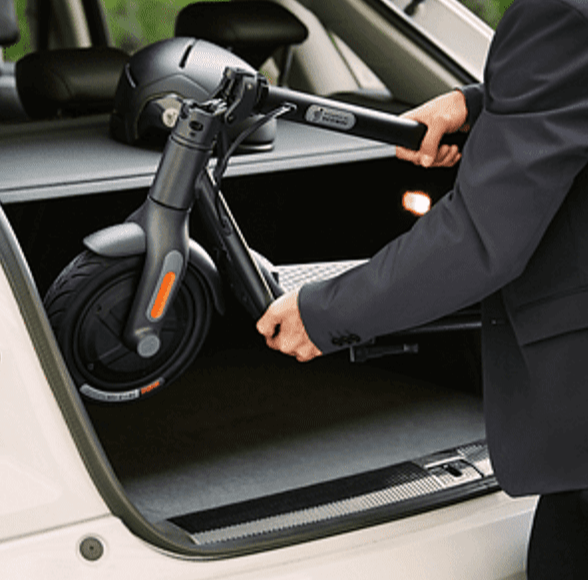 Safety and comfort thanks to wide tires
The Segway Ninebot F40E is equipped with wide 10-inch tubeless tires to give you a comfortable and smooth ride. The polymer liner and the thread, decreasing the wear in the tires, bring stability and the best durability.
On the wheels, you will also find the two independent brakes controlled by the lever. On the front wheel, we find an electronic anti-lock braking system (E-ABS); and on the rear wheel, a disc brake. The combination of these brakes gives you both more stability and safety in your daily journeys.
A beautiful full LED screen with several options
The Ninebot F40E comes with a Color LED Display with a control button that makes it easy to turn your scooter on/off, turn the front light on/off, and switch between the following riding modes:
• Energy saving mode (ECO): with a speed of up to 15 km/h, this mode allows the battery to last longer, giving you greater range
• Standard mode (D): this mode is the perfect combination of speed and range
• Sport mode (S): this mode is faster and has a more dynamic driving
• Finally, walking mode: with a speed of up to 5 km/h, this mode allows you to easily push your scooter alongside you while walking
Move on all terrains
With front-wheel drive and progressive engine propulsion, as seen in the power output of the NineBot KickScooters, you can ride on all kinds of terrain:
• F40E: with an output power of 350 W, the climb angle can be up to 20%

Strong and easy to carry chassis
The F-Series has a double-tube frame that forms a triangle, creating a strong and stable structure for the scooters. This solid frame can support a payload of up to 100 kg.
It has a 2-step folding mechanism that can be operated with one hand. Storing and transporting your scooter is made easy with the easy and secure locking/unlocking system.
Smart Battery Management System (BMS)
The D-Series is equipped with a battery with energy recovery system which ensures that no energy is wasted during the journey, and which closely monitors the performance of the battery.
Recharging the various scooters is simple thanks to the easy access to the charging port located on their running board.
Technical data
Battery
LI-ION 36V 10.2Ah
Brake type
Electromagnetic front brake + rear disc brake
Type tire
10" tubeless tyre
Kinetic Energy Recovery System
Yes
Dimensions
1160 x 1143 x 480 mm / 495 x 1143 x 480 mm
years warranty on the E-scooter
year warranty on the battery
first service after 200 km free
discount on wear parts after purchase
discount on replacement battery