Speedtrott RX2000 V4 - Samsung 60V 24.5 Ah
Speedtrott RX2000 V4 - Samsung 60V 24.5 Ah
Speedtrott

In stock
2 - 5 working days
The SpeedTrott RX2000 electric scooter is above all an aggressive design that leaves no one indifferent!
It imposes its assertive style and clean lines! Equipped with a whole range of equipment and accessories, the SpeedTrott RX2000 is the scooter electric which combines comfort, stability and robustness!
EFFICIENT HYDRAULIC BRAKES IN ANY SITUATION!
The SpeedTrott RX2000 electric scooter defends itself beautifully with its 140mm ventilated disc braking system.
For more quality, the choice fell on the NUTT brand, which are accompanied by an adjustable EABS on 5 levels.
The braking is therefore particularly qualitative to allow everyone to discover the driver who lies dormant in him!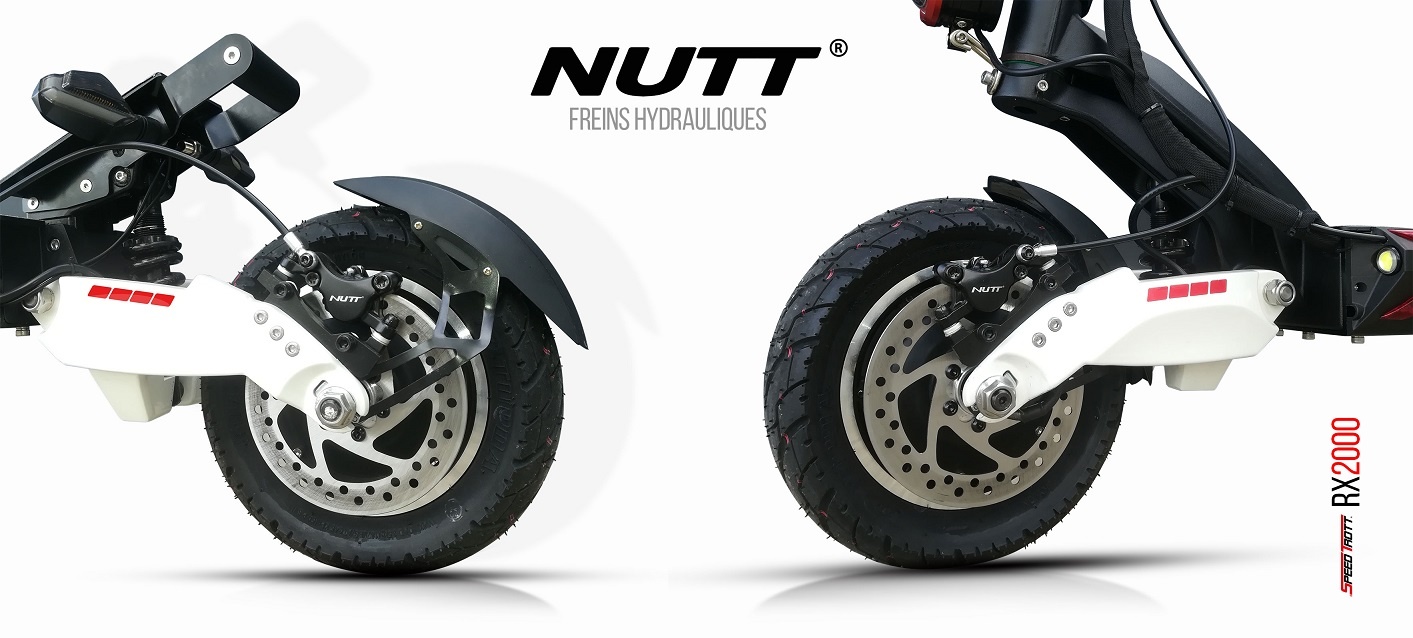 A NOBLE AUTONOMY IN SPORT MODE OR NORMAL RIDE
Go for long rides on the SpeedTrott RX2000! Thanks to its 60V 24.5 Ah battery, the SpeedTrott RX2000 allows you to do 100 km in single mode, and 35 km in dual mode! **
Thanks to its 10x3 Tupda tires, wider than the majority of its competitors, stability and driving comfort are increased.
At the request of many users, Speedtrott added a standard steering damper on the RX2000! It is the first electric scooter under 5000.00 € offering this system, which is nevertheless something very appreciable to avoid the handlebar.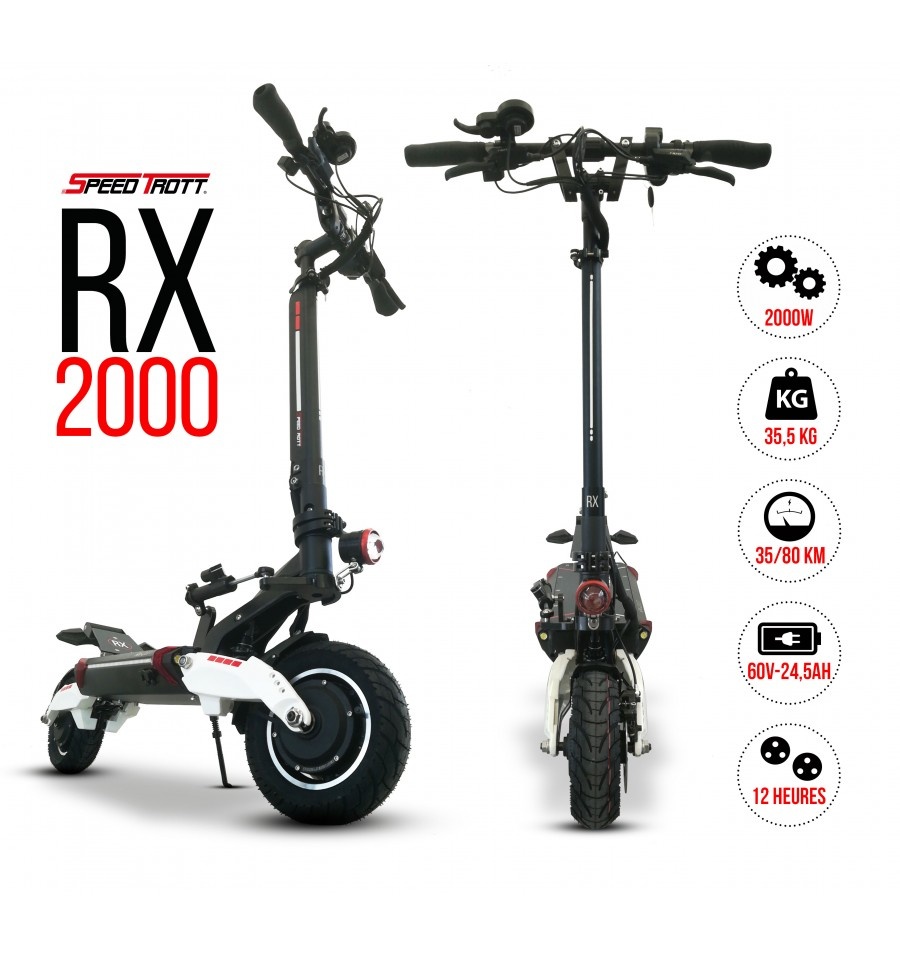 AN ADJUSTABLE AND ADAPTED ELECTRIC SCOOTER!
In addition, the SpeedTrott RX2000 can adapt to any type of pilot!
Its height-adjustable handlebars allow you to choose the position that seems most comfortable to you!
(lowest position 89cm, highest position 109cm)
Its two motors of 1000W each, will allow you to gauge the power thanks to its distribution (1 at the front and 1 at the rear). You will find reflective stickers on the RX2000 and front, rear and side LEDs. No risk, you can admire your electric scooter from every angle, day and night.
Finally, the RX2000 has an ignition key unique to each model, without it you cannot start your electric scooter! What to protect against theft, and dissuade the opportunists who could envy your car!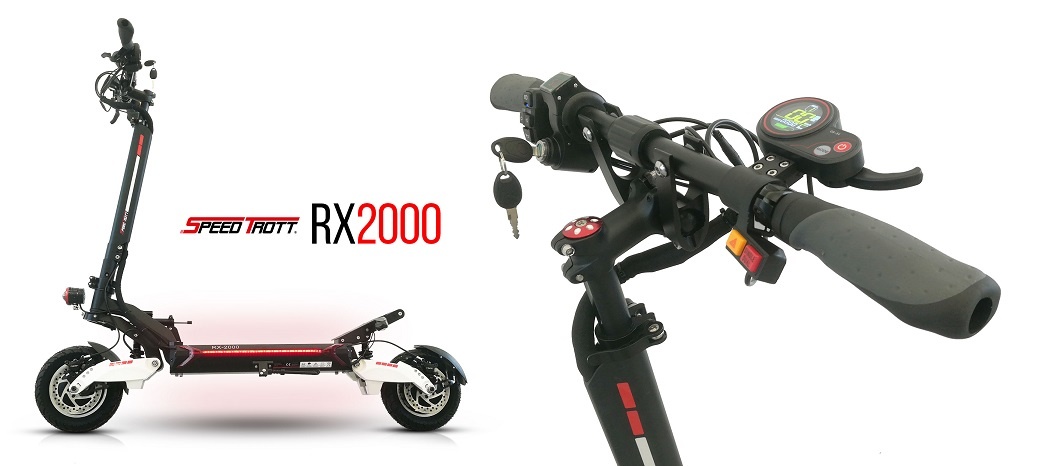 AN ELECTRIC SCOOTER THAT WANTS TO BE SMALL!
The SpeedTrott RX2000, although weighing 35.5 kg, folds very easily. You can easily store it in your home.
Thanks to its handle located at the end of the deck, you can also move it, while taking advantage of the wheel to roll it.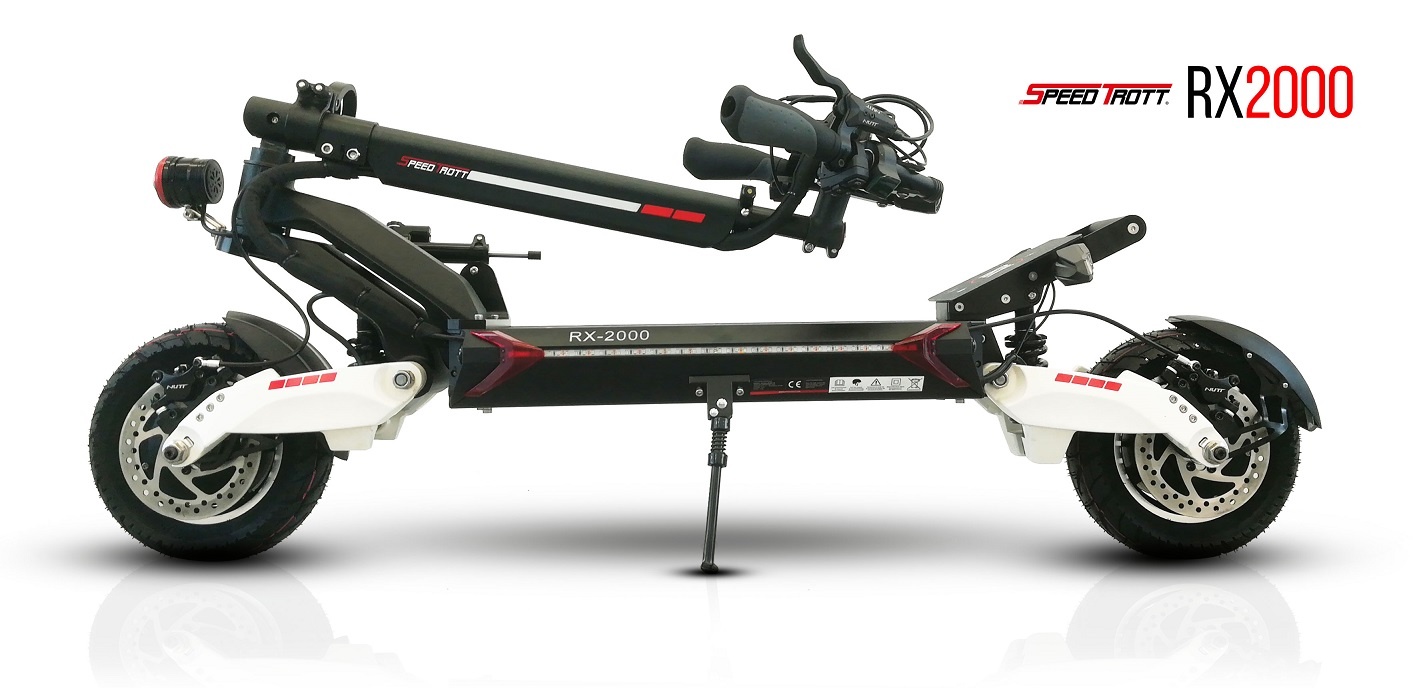 CUSTOMISATIONS AND ACCESSORIES
Many accessories are available to you such as OFFROAD tires for the most rugged terrain, a plexiluminous deck that will give you flawless visibility, an adjustable side stand, pneumatic shock absorbers or even anodized handlebar cuffs!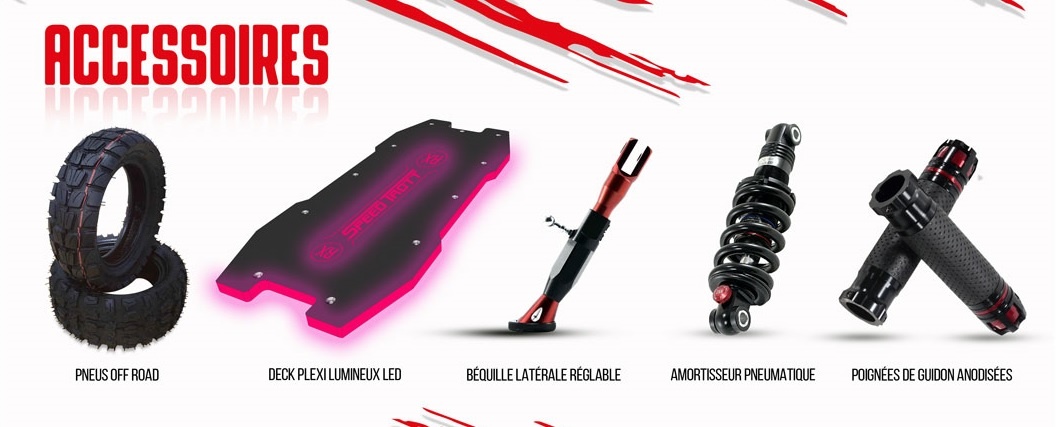 Technical data
Battery
Lithium Ion Samsung 60V 24.5 Ah
Suspension
Spring swing arm front + Rear
Brake type
Hydraulic disc brake front + rear
Type tire
Wide 10x3 air tyre with inner tube
Kinetic Energy Recovery System
Yes
Optional fast charger
Yes
years warranty on the E-scooter
year warranty on the battery
first service after 200 km free
discount on wear parts after purchase
discount on replacement battery