Speedtrott GX14 - Panasonic 48V 13Ah
Speedtrott GX14 - Panasonic 48V 13Ah
Speedtrott

A scooter designed for the city
Equipped with 8-inch wheels and a compact size, the SpeedTrott GX14 scooter is an electric scooter designed for intensive urban use.
Equipped with a front suspension and double rear suspension, this scooter is perfect for passing all the obstacles of your course with notable comfort. Indeed, its suspensions absorb very well the shocks associated with damaged pavements, cobblestones ...
In addition, the 8-inch inflatable front wheel optimizes road grip and thus provides safe driving at full speed.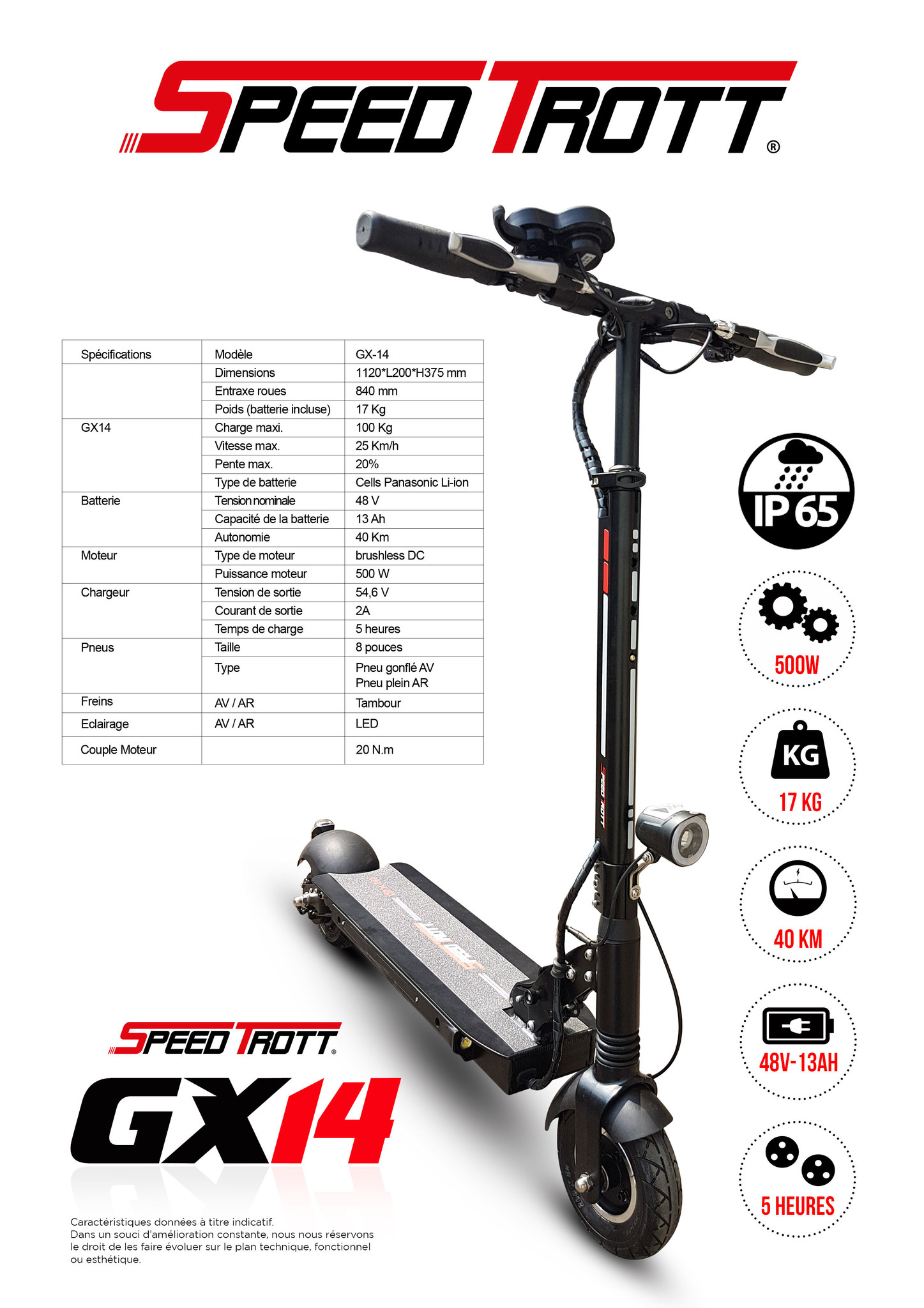 Autonomy of 40km for your freedom of movement
The SpeedTrott GX14 electric scooter allows you to ride at a top speed of 25 km / h for a wide range of 40 km. Paired with a 48V 13 Ah Samsung Lithium battery, it can be recharged in 6 hours on any outlet.
The 500W BLDC HUB brushless motor is very powerful and will help you move with ease on all asphalted terrains. This Brushless motor offers a smooth, quiet and balanced ride. The SpeedTrott GX14 has several driving modes ranging from 6km / h to 25km / h.
Your visibility is ensured by front and rear LED headlights. Ideal to be better seen by all users in the dark or in rainy weather.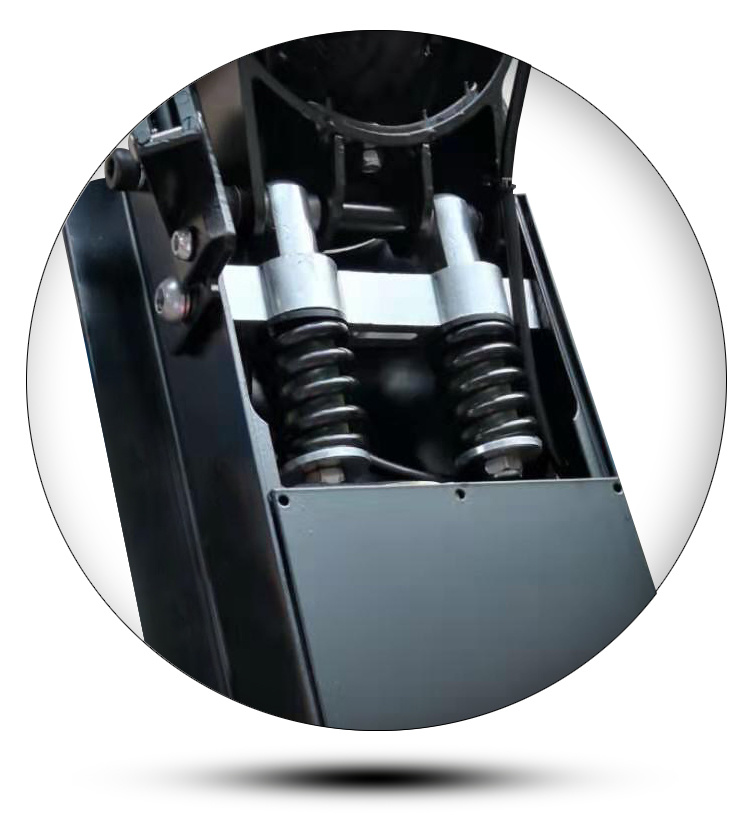 The design of the SpeedTrott GX14 has been thought to be solid and robust with an aluminum frame and double security in the folding system.
The SpeedTrott GX14 electric scooter also benefits from a double front and rear drum brake. This braking system is very safe to walk around the city with confidence.
In addition, it is one of the only electric scooters with an IP65 waterproof standard.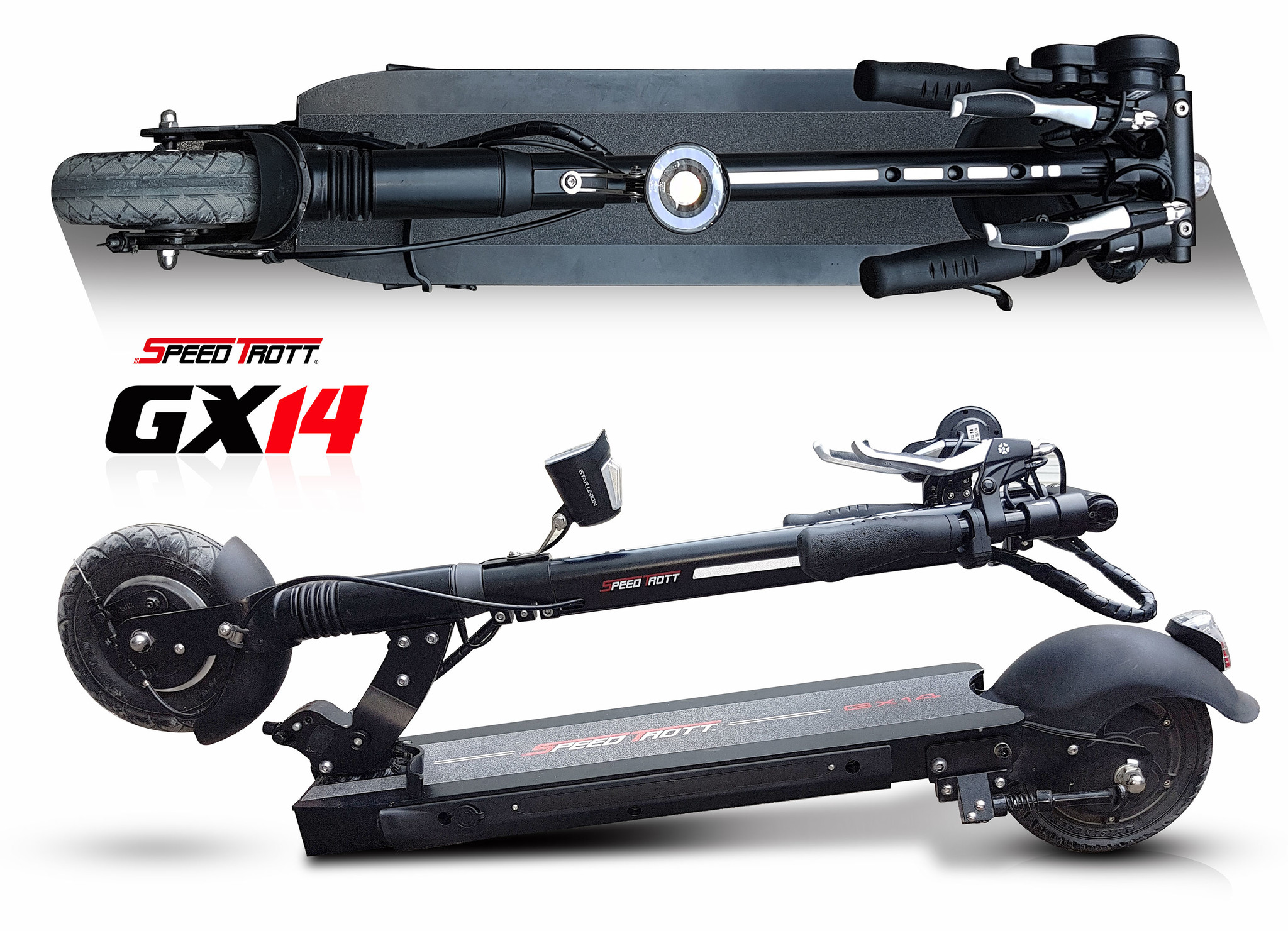 Technical data
Battery
Lithium Ion Panasonic 48V 13Ah
Suspension
Springs Front and rear
Brake type
Hydraulic disc brake front + rear
Type tire
8" Pneumatic Tyre front / Solid tyre rear
Kinetic Energy Recovery System
Yes
Dimensions
111 x 20 x 37 cm / 102 x 53 x 118 cm
years warranty on the E-scooter
year warranty on the battery
first service after 200 km free
discount on wear parts after purchase
discount on replacement battery