E-twow Booster V 2020
E-twow

The electric scooter E-twow Booster V+

With its new Samsung battery 36V 10.5Ah, the Booster V can reach 25km/hwith an autonomy of  25km.

With a weight of 10.9kg, the Booster V is the lightest and most powerful e-scooter in its class. It folds in one click, and its look is similar to a kick scooter.

E-Twow Booster V+ fits easily in the trunk of your car, but also on public transport. Put your e-scooter under your desk for a quick charge!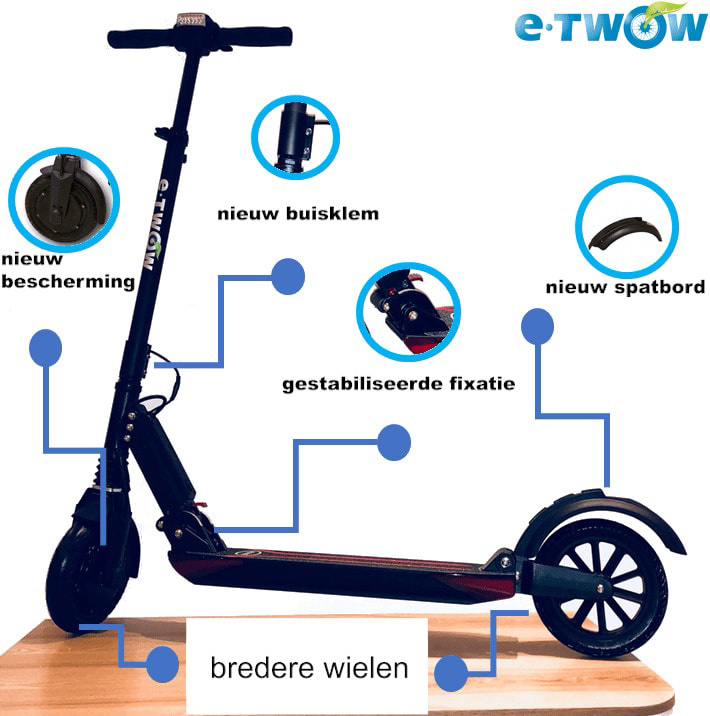 The E-Twow Booster V+ electric scooter equipped with the new controller and the new 2018 display that brings many improvements:
- New error codes
- Deleting speed limit at 30km/h for experienced users
- Possibility of evolutionary configuration
- Reliable battery gauge
- Rear braking light
- Magnetic braking integrated in the downhill resistant motor
- The color display or dashboard allows you to view the speed, the distance traveled, and of course the charge level of the battery

Although E-twow scooters are able to run without a battery and / or off, this is an important element to be able to finish your course at reasonable speed.

2 years warranty, 1 year on battery
UPGRADE
KIT: official rear solid tire + drum brake + installation: 189.00€

KIT : Official rear solid tire + drum brake:  129.00€
Technical data
Motor
500W 36V brushless DC
Suspension
spring suspension front & rear
Brake type
electric front brake + rear foot brake
Kinetic Energy Recovery System
Yes
Dimensions
940mmx1160mmx135mm (open),940mmx330mmx150mm (folded)
years warranty on the E-scooter
year warranty on the battery
first service after 200 km free
discount on wear parts after purchase
discount on replacement battery