Dualtron Storm 2020
Dualtron

The Dualtron Storm is Minimotor's most advanced sportive electric scooter to date, with exceptional features and many improvements compared to the previous generation (
Dualtron Thunder
)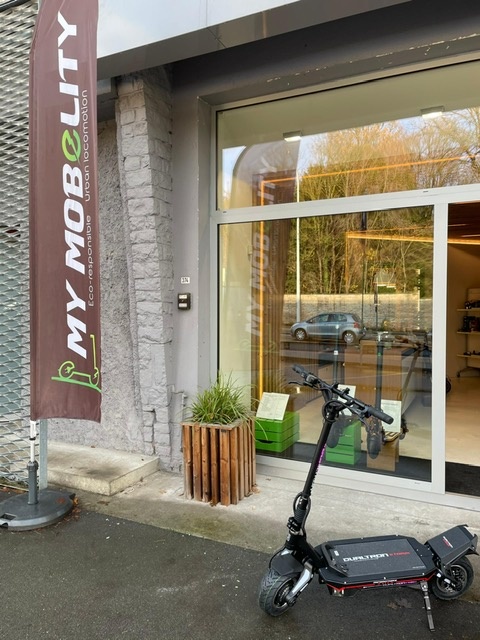 WHAT'S NEW ?
Thanks to the thousands of Dualtron Thunder users all around the world, Minimotors has learned about the weaknesses of their flagship model and answered with the right improvement on the Storm :


The folding mechanism of the Dualtron Storm is improved compared to the Thunder with double tightening rings; no more handlebar problems.
Minimotors equipped the Storm electric scooter with quality full hydraulic brakes and 160 mm disks for higher efficiency, energy dissipation, and a gorgeous look.
Removable battery.
The Storm frame and handle are made with super-strong aviation level aluminum forging alloy, ref: 6082-T6.
Rubber suspensions of the Storm adjustable with 45 possible configurations (9 step variable suspension system+ 5 kinds of rubber cartridge).

Rear red lights and warning are in a higher position for better visibility.

The Dualtron Storm controllers are more reliable and the water-resistance greatly enhanced.
Finally, the process of accessing and replacing the E-scooter 11″ tubeless tires is simplified for an easy maintenance process.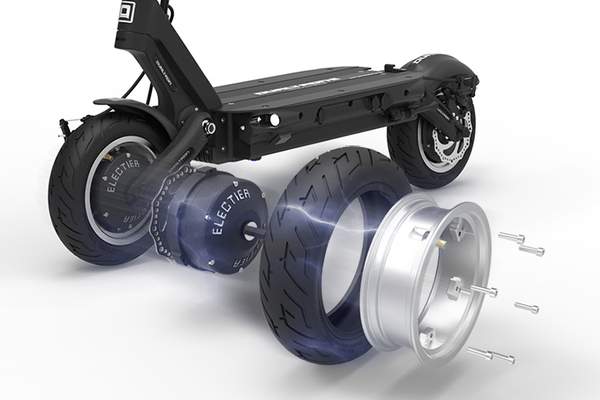 The Dualtron Storm electric scooter is equipped with two Direct Drive Brushless (HUB) motors that deliver a total power of 6640W.

Concerning the range of the Storm, it is not less than a hundred kilometers as we equipped the scooter with a huge battery of 72V 31.5Ah, powered by LG. LG cells are amongst the best cells on the market and should resist well to time.

The Storm has many charging options, you can charge the scooter with the standard 1.5A charger in about 21 hours or plug two 1.5A chargers simultaneously in order to reduce the time by half.
The ultimate charging option, for an additional charge, is to purchase our fast charger for Dualtron Storm (5 or 6.5A depending on the version), which can reduce the necessary time to up to 5 hours.

Dualtron Storm is the perfect off-road electric scooter with the ability to climb slopes of 70% (around 35°), enough to climb every type of hill. Our e-scooter is definitely your best ally in the mountains.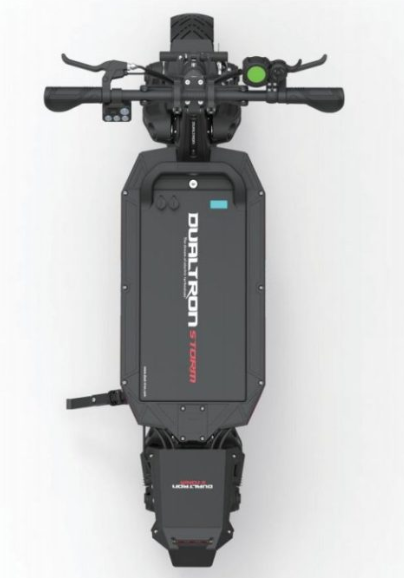 The EYE LCD and throttle assembly is your dashboard for everything you want to know about your electric scooter.  It even includes cruise control.  Couple that with an optional fingerprint lock so only you can unlock your ride.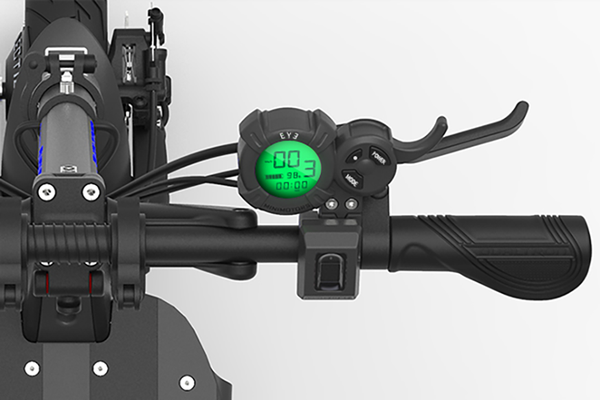 Significant technological improvements on the motors, braking system, and frame design push the physical boundaries and the limits of riding dynamics once again further. More radical, more aggressive, and more dramatic, the Dualtron 'Storm' is Minimotors's pinnacle of riding dynamics, enabling straightforward handling on winding roads and providing an impelling thrill behind the wheels.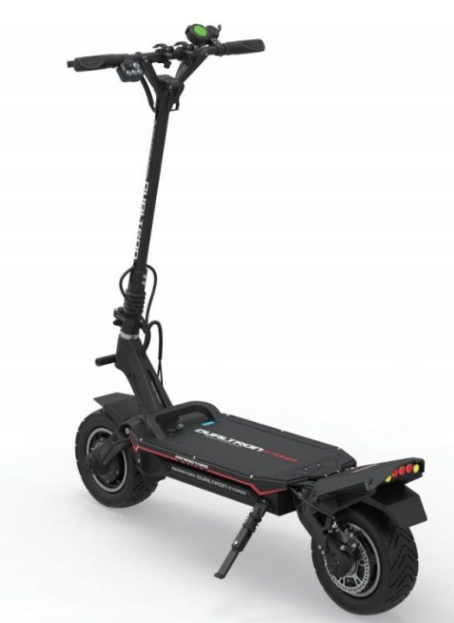 Technical data
Battery
LG LI-ION 72V 31.5Ah
Motor
6640W Dual hub motor
Suspension
Front + Rear Elastomer Swing arm
Brake type
Hydraulic disc brake front + rear
Type tire
11" Tubeless air tires
Charging time
(1 X 1.7A charger): 16h00 + hours, Fast charger: 6 hours
Kinetic Energy Recovery System
Yes
Dimensions
Open: 101 x 31.8 × 60.5 cm, Folded: 121 x 31.8 x 60.5 cm
Optional fast charger
Yes
years warranty on the E-scooter
year warranty on the battery
first service after 200 km free
discount on wear parts after purchase
discount on replacement battery