Dualtron Thunder 2021
Dualtron

In stock
2 - 5 working days
The evolution of the Dualtron Ultra, meet Thunder. Dualtron Thunder electric scooter has a massive 5400 watt BLDC motor, adjustable suspension, and ABS brakes.  Despite the performance of this beast, it will still give you a range of around 100km .  This is the best performing electric scooter in the world.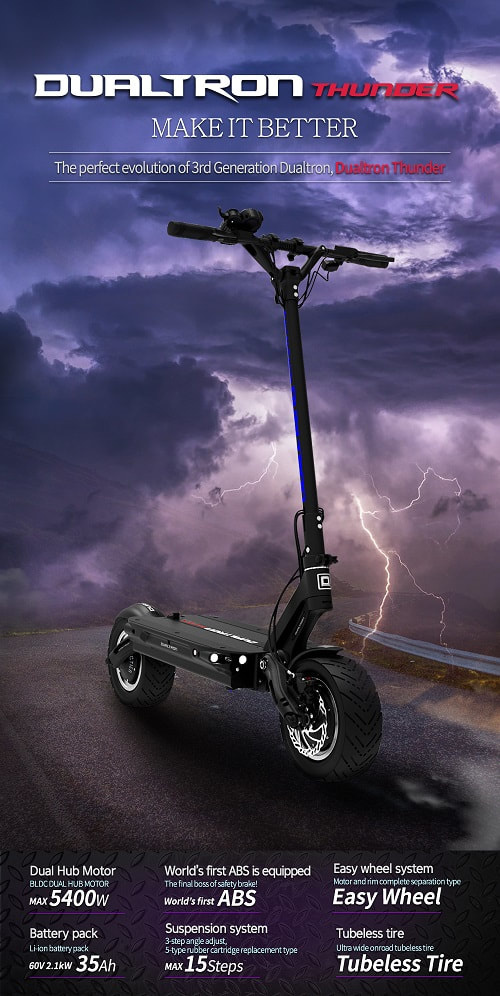 No other stand up electric scooter in the world comes with ABS brakes, but that said no other electric scooter in the world is quite like the Duatlron Thunder!  Safety, performance, and reliability is what Minimotors is all about.  We are constantly innovating and leaving the competition a bit further in the dust.

For 2018 the Dualtron's suspension geometry has been completely reworked.  We now have a fully adjustable 3 step variable suspension system which is coupled with replaceable rubber cartridges to completely dial in your ride.  Lighter riders and riders in cooler climates will prefer softer cartridges.  All Dualtron Electric Scooters come stock with medium elasticity rubber and extra cartridges are an optional accessory.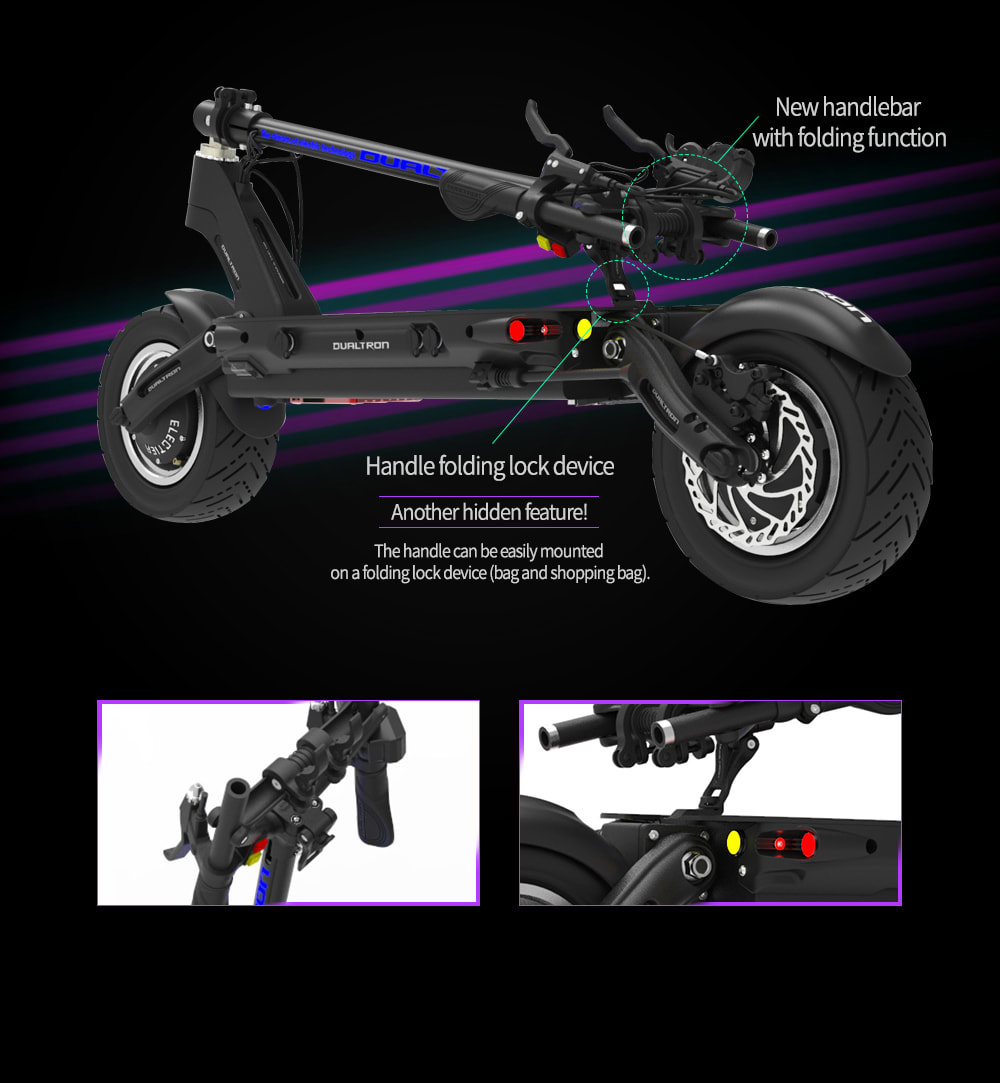 The wheel assembly for the Thunder and the Dualtron III is removable making servicing a bit easier while the 4 inch ultra wide tubeless tires make fixing flats a breeze.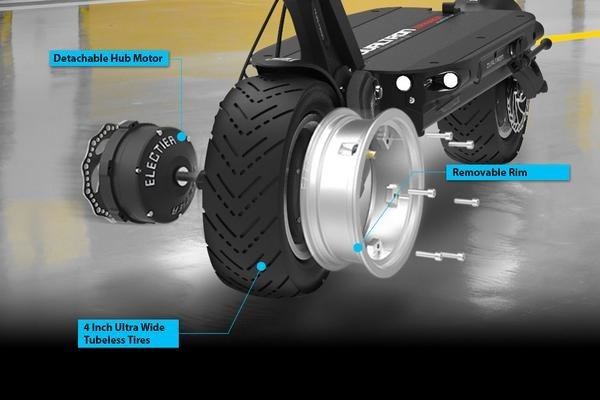 The EYE LCD display is new for 2018 with all Dualtron Electric Scooter Models.  It adds even more functionality and couples nicely with the optional fingerprint reader.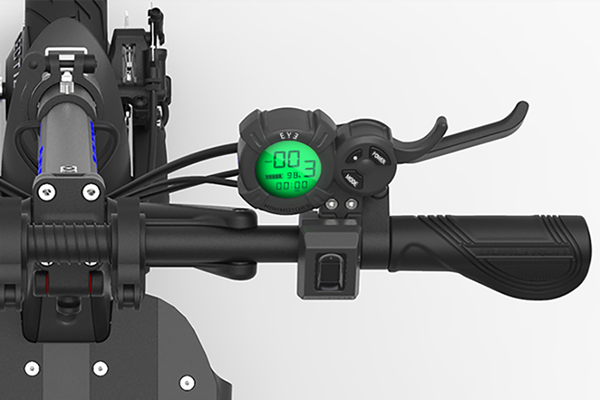 3rd generation Dualtron folding system provides better portability.

New handlebar and handle folding fixture is applied as standard

NEW Foldable Handlebar & Handle Post Fixture


New handlebar and handle folding fasteners make it easy to fold and it is convenience for storage and portable.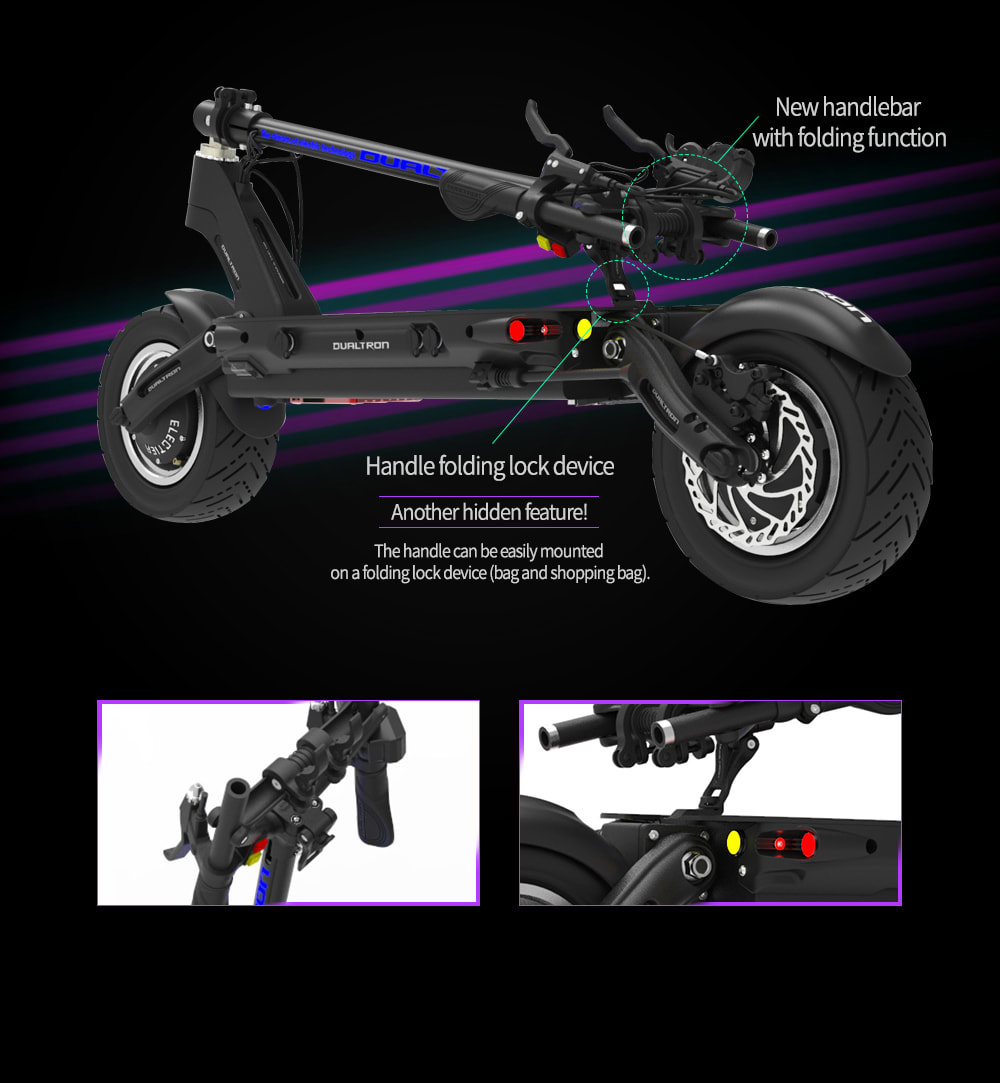 The 3rd generation Dualtron that shines more beautifully than the stars in the night sky!
LED handle post light emitting system and lower mood lamp standard application
LED illuminated Handle Post System & Bottom Mood Lamp

By applying the LED light system to the handle bar and folding parts and adding the lower mood lamp, you can produce a brilliant LED effect at night and reduce the risk of night safety accidents.
Dualtron Thunder 2021, what's NEW?
New folding HUB + pole clamp, similar to the Dualtron Storm.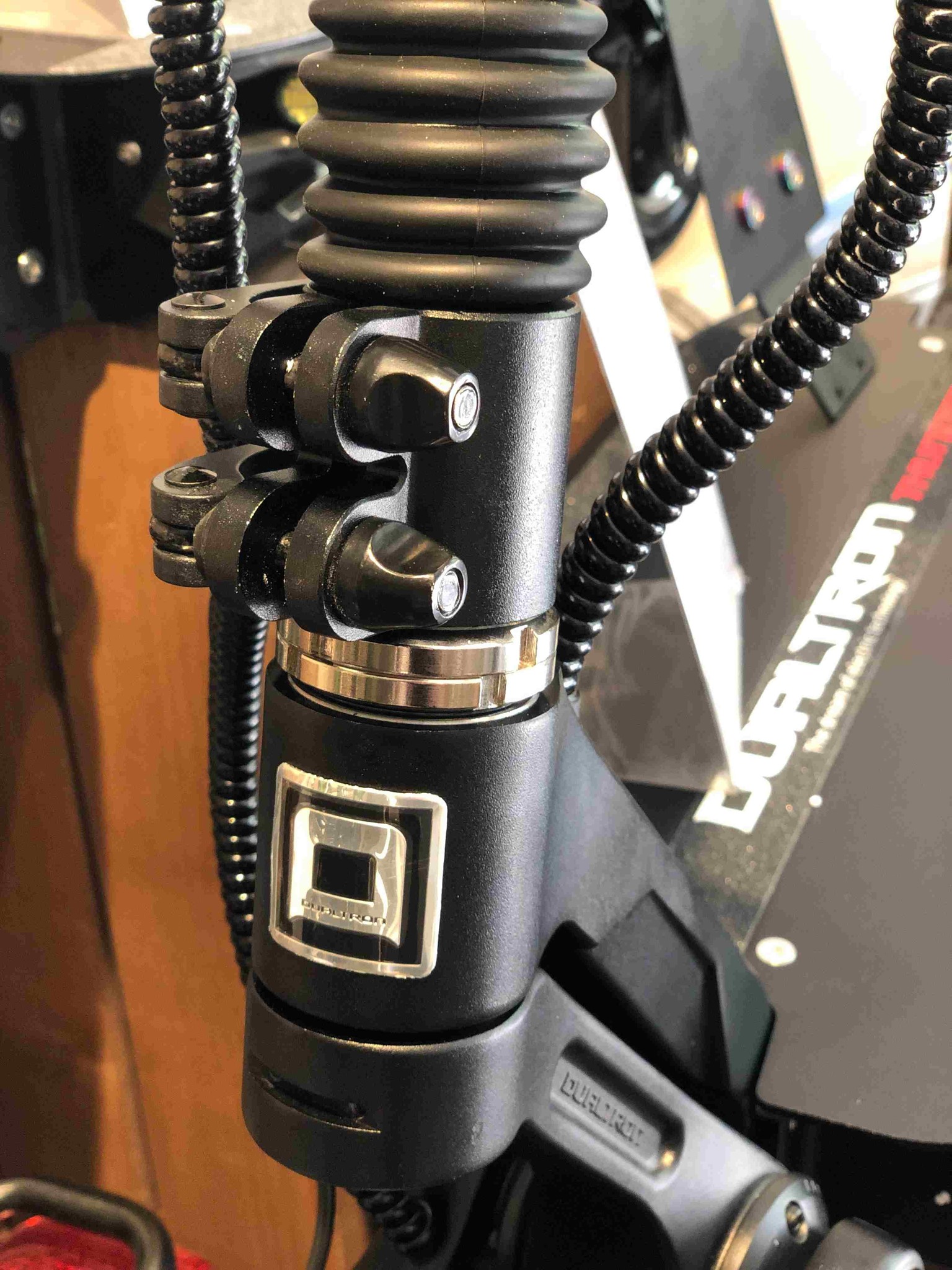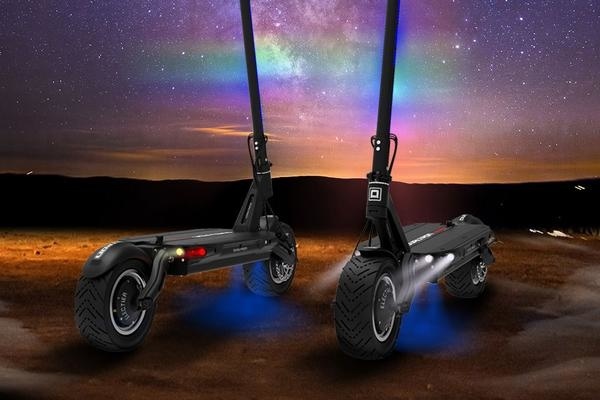 Dualtron ignition key + installation 149.00 €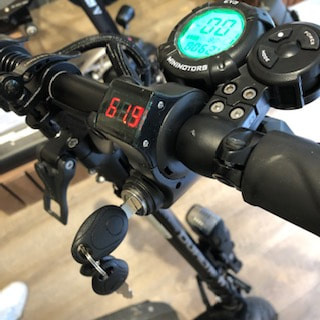 Technical data
Motor
Dubble motor max 5400W
Suspension
Front + Rear Elastomer Swing arm
Brake type
Hydraulic ABS disc brakes
Type tire
11" Ultra wide tubeless air tire
Charging time
1x 1.7A: 20 hours , 2x 1.7A: 10 hours
Kinetic Energy Recovery System
Yes
Dimensions
Open: 123,8 x 60,9 x 121,9 cm, Folded: 123,8 x 31,9 x 54,3 cm
Optional fast charger
Yes
years warranty on the E-scooter
year warranty on the battery
first service after 200 km free
discount on wear parts after purchase
discount on replacement battery