Dualtron Raptor 2
Dualtron

"DUALTRON RAPTOR 2is Light and Compact but Powerfull"
The electric scooter Dualtron Raptor 2 is the newest version from the famous Dualtron Raptor. What is new?
Lighter, only 23kg.
New EYE throttle display (like on Thunder, 3, Spider and Speedway 5)
ABS braking system.
Do you want the power of a Dualtron but still light weight and solid tires to ride without any stress of getting a flat tire? The Dualtron Raptor 2 is the machine you need. With its 2x 800W motor and a huge LI-PO battery of 60V 18.2Ah, the Raptor 2 reveals itself pratical for city rides without leaving the power aside. Thank's to a weight of 23kg, the Raptor 2 is still a machine easy to combine with public transportations.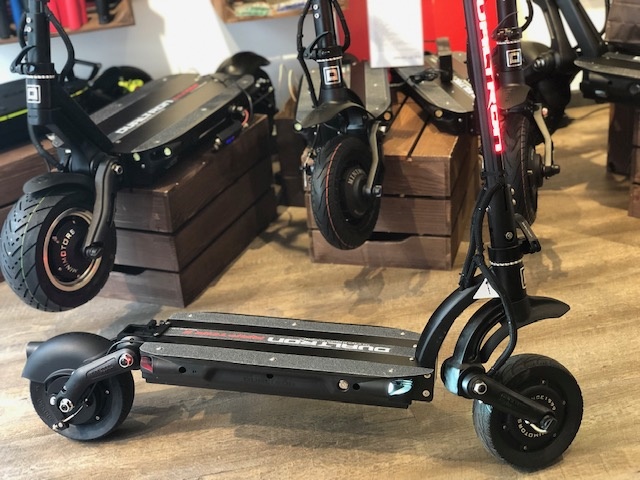 The rear drum brake coupled with the ABS braking system will allow you to be safe enough comparing to the same segment competitors. The suspensions are assured by the legacy front and rear swinging arms developped by Dualtron: The electric scooter Dualtron Raptor 2 is probably one of the most comfortable electric scooter with solid tires on the market right now.
In addition to standard dual LED headlights and taillights / brake lights, the Dualtron Spider has LED mood lighting built in to the shaft of the scooter. Mood lights are controlled with an included remote control.
Technical data
Brake type
Drum brake front + rear
Type tire
Solid 8" front and rear tires
Charging time
(1 X 1.7A charger): 9 hours, (2 X 1.7A charger): 5 hours
Kinetic Energy Recovery System
Yes
Dimensions
Open : : 118,0cm x 60cm x 120,0cm, Folded: 118,0cm x 60cm x 50cm
Optional fast charger
Yes
years warranty on the E-scooter
year warranty on the battery
first service after 200 km free
discount on wear parts after purchase
discount on replacement battery