Dualtron Achilleus
Dualtron

Dualtron Achilleus: New king of 11 inches E-scooters:
We have the honor to present to you a new model of the Dualtron range. The Dualtron Achilleus completes a range of sports electric scooters and is positioned as a replacement for the Dualtron Thunder 1st generation. This electric scooter with unique characteristics is modern, reliable and efficient.
You will first notice the design of this Dualtron Achilleus 60V 35Ah. It is borrowed from the Dualtron Thunder 2 in order to stay in the spirit of the brand. Sober and elegant, the Achilleus stands out for its equipment. You will find in particular full hydraulic brakes, a footrest integrated in the deck and an improved suspension.
Impressive features:
In addition to its design and equipment, the Achilleus offers exceptional capabilities. You will like its power of 4648W developed by its two motors. Needless to say that you will have no problem crossing climbs or traveling off the beaten track with this Dualtron Achilleus. Worn on 11" tires like the Thunder, it offers impeccable handling on all terrains.
That's not all, we have chosen to equip it with the same LG 60V 35Ah battery as the Thunder. Thus, this high-quality battery will continue to prove its worth with the Achilleus. However, it will offer a slightly longer battery life than that of the Dualtron Thunder. Indeed, this Dualtron Achilleus is equipped with a 35A controller, less energy intensive.
This one is particularly neat with beautiful LED signatures and a footrest that gives the scooter a sporty look. It is clear that this electric scooter will turn heads with every pass.
Technically, the Dualtron Achilleus is slightly more compact and lighter than the Dualtron Thunder. In fact, the size is reduced by a few centimeters, as is the weight: 40.2 kg. Of course the crazy power is at the rendezvous.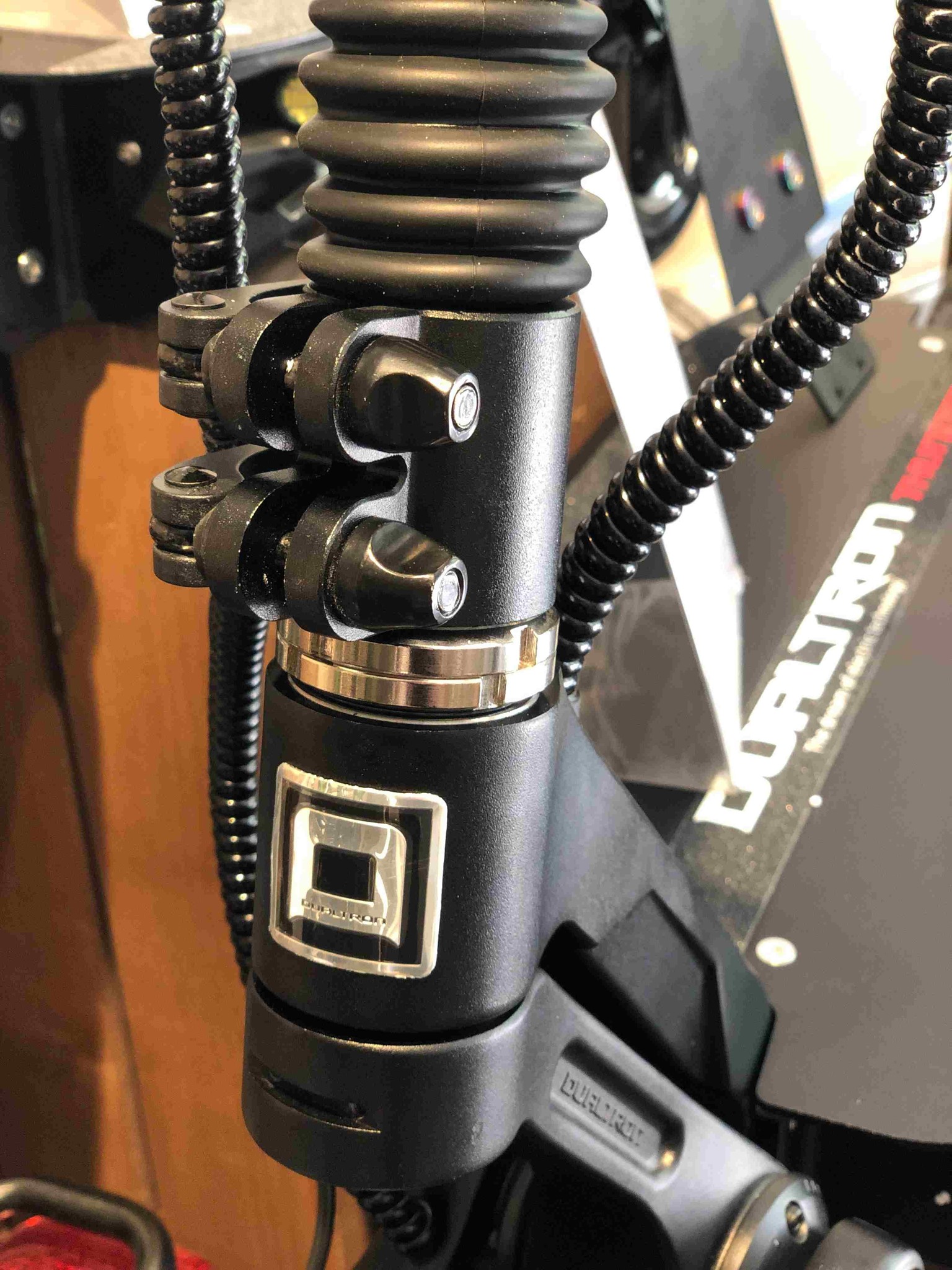 Technical data
Motor
Double motors max 4648W
Suspension
Front + Rear Elastomer Swing arm
Brake type
Hydraulic ABS disc brakes
Type tire
11" Ultra wide tubeless air tire
Charging time
1x 1.7A: 20 hours , 2x 1.7A: 10 hours
Kinetic Energy Recovery System
Yes
Dimensions
Open: 123,8 x 60,9 x 121,9 cm, Folded: 123,8 x 31,9 x 54,3 cm
Optional fast charger
Yes
years warranty on the E-scooter
year warranty on the battery
first service after 200 km free
discount on wear parts after purchase
discount on replacement battery