Nami Burn-e 3 MAX 72V 40Ah
Nami Burn-e 3 MAX 72V 40Ah
Nami

In stock
2 - 5 working days
NAMI Electric - New Age Mobility Innovation
NAMI is a new brand of electric scooter  in the high-end niche both in terms of performance but also components. Thanks to their experience acquired over the years, NAMI engineers have listened to user's requests to deliver robust and efficient electric scooters to us, while eliminating the weak points of competitors in this same sector.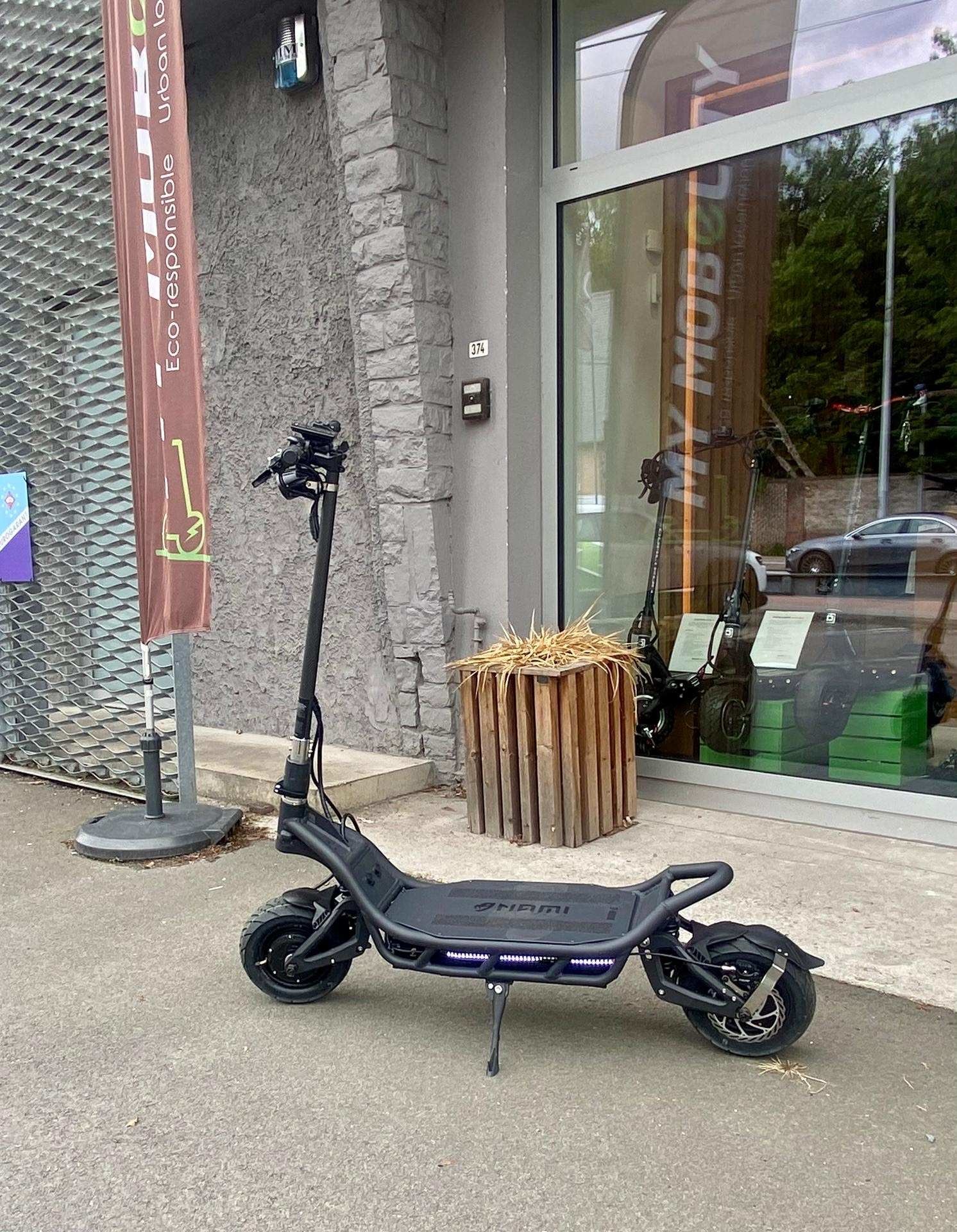 The Nami Viper Burn-e 3 MAX is equipped with a large 72V 40Ah battery with 18650 cells which are among the most efficient cells on the market. The announced autonomy is 150km (25km / h, load of 70kg, 25 ° C, without wind ...) but let's look more at 100km real.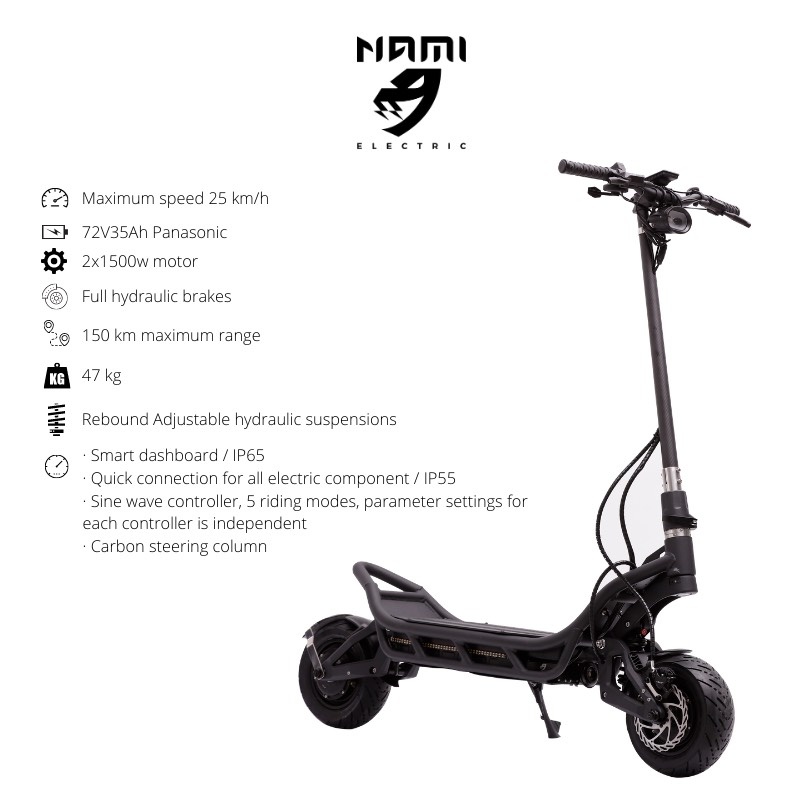 Two powerful brushless motors of 1500W each for a total of 3000W, with a peak at 8400W, giving it a monstrous torque.
To slow down the 50kg of the ViperBurn-e 3 MAX, Nami has chosen to equip its electric scooter with LOGAN hydraulic disc brakes with 160mm disc, as well as the traditional electromagnetic brakes adjustable in intensity, which equip the majority of current electric scooters.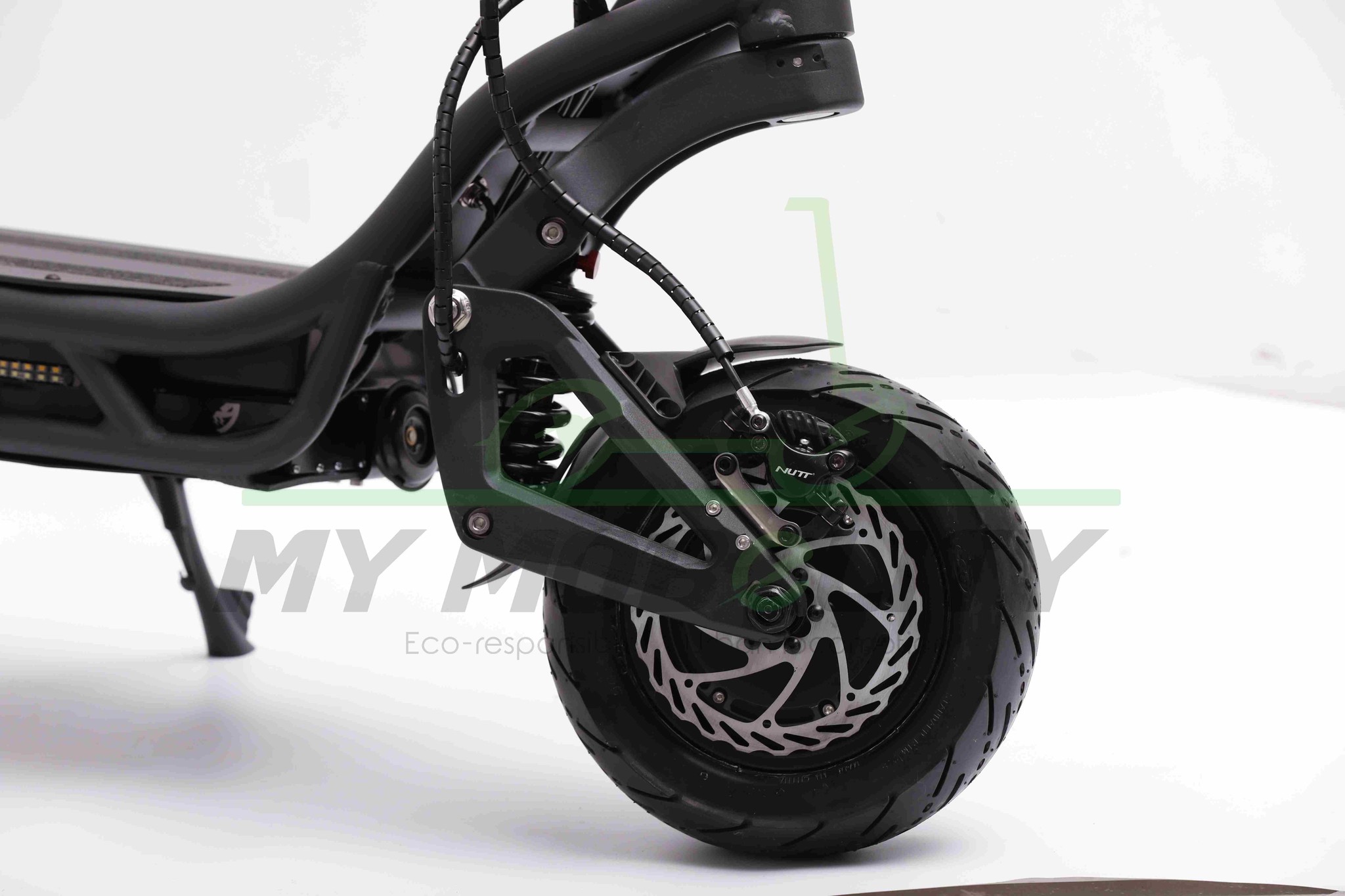 Namiinnovates and installs a large waterproof color display on the Viper Burn-e 3 MAX! 5 driving modes are available and, a great novelty, the settings of the two controllers is independent: you can therefore independently adjust the acceleration power of the front and rear motor, but also the intensity of the electric braking to establish a perfect balance between the 'front and back and according to your preferences!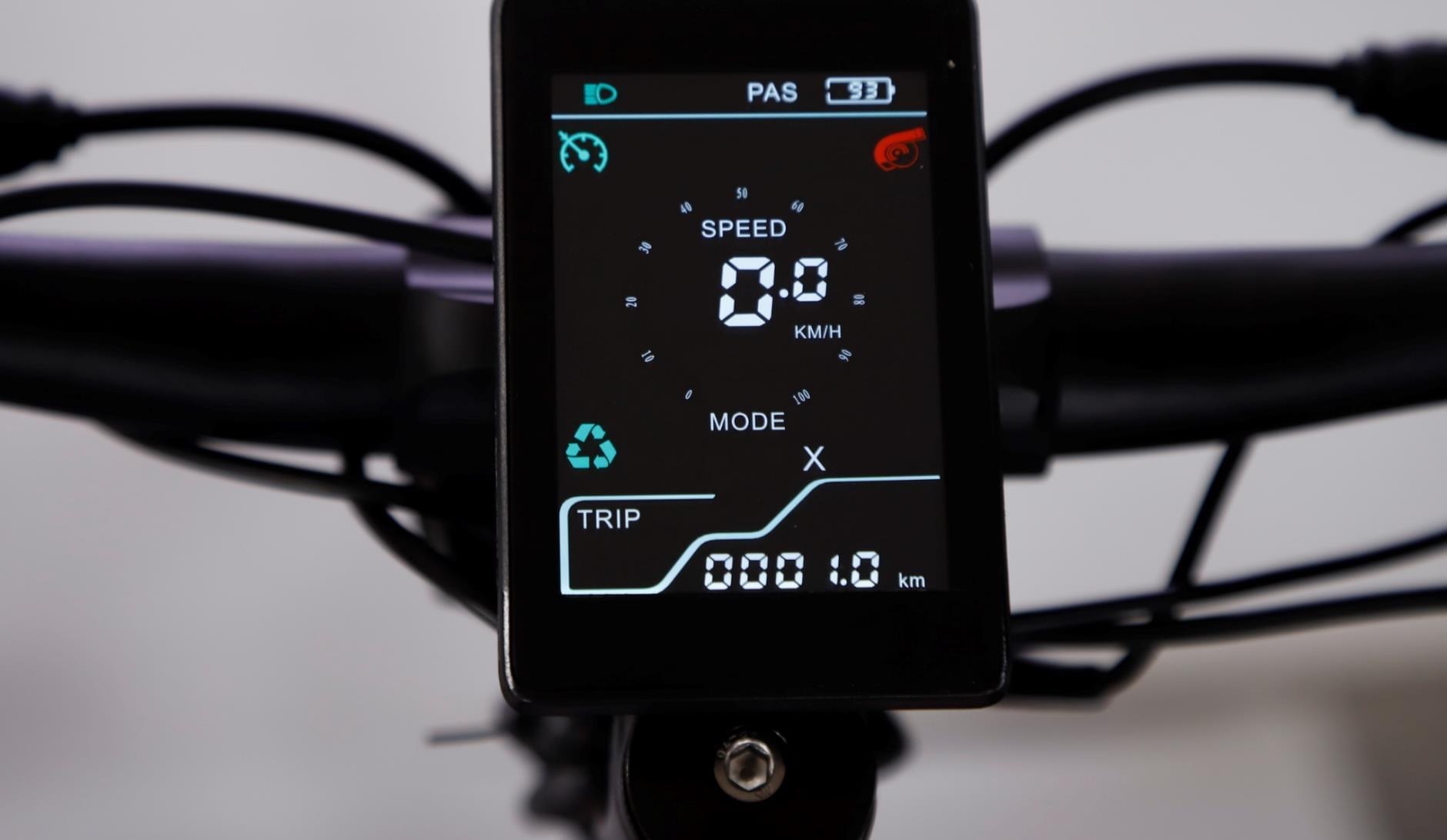 On the controller side, NAMI engineers have opted for 50 amp sin wave controllers, allowing the motors to be quieter.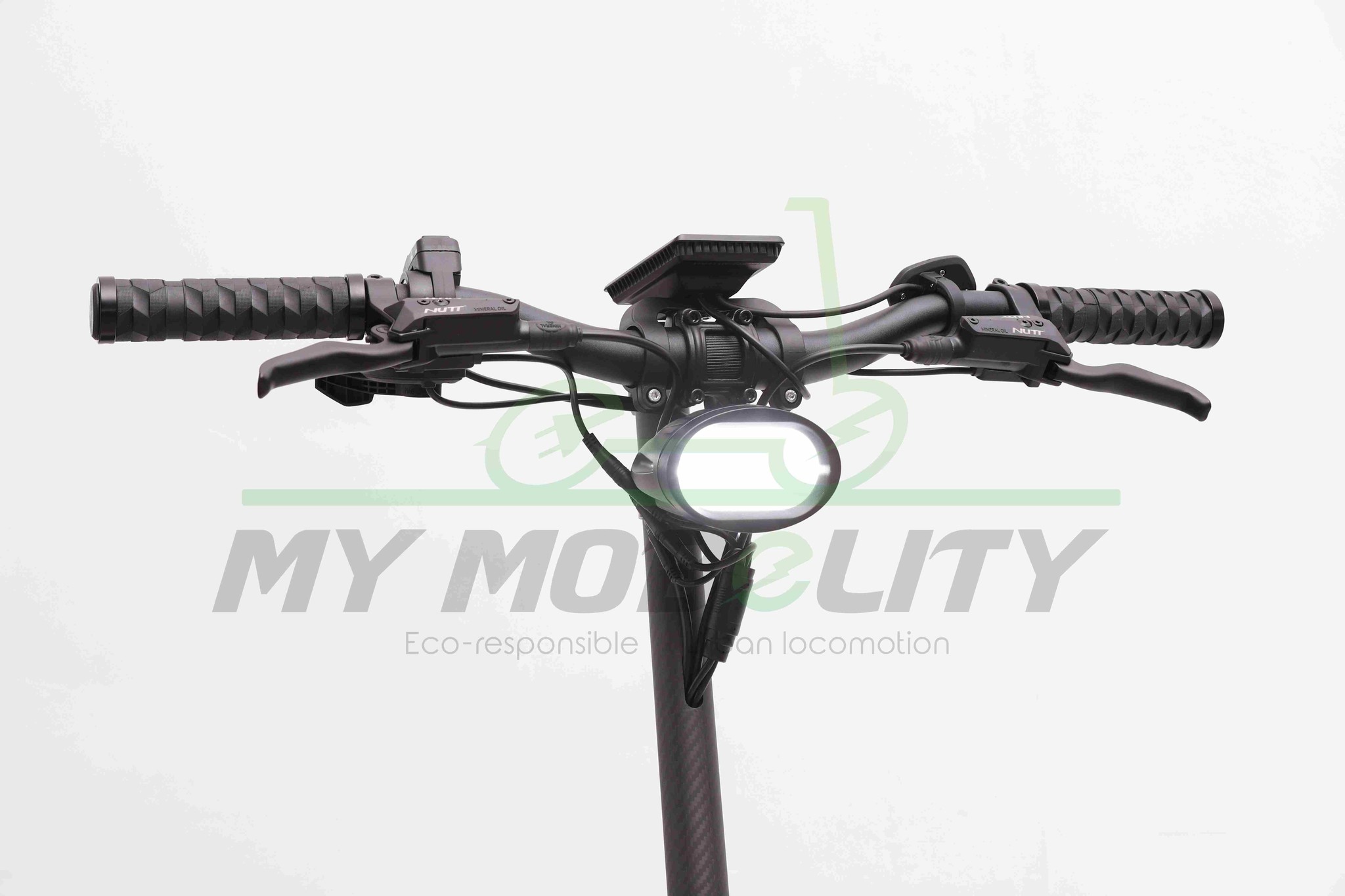 For driving comfort, the Viper Burn-e 3 MAX electric scooter is equipped with two  adjustable 165mm hydraulic coil suspensions. A powerful 2000 Lumen headlight is positioned on the upper part of the scooter, under the handlebars, for optimal lighting of your trajectory. A motorcycle-type horn, similar to that of the Kaabo Wolf Warrior, is fitted to the Nami Viper Burn-E.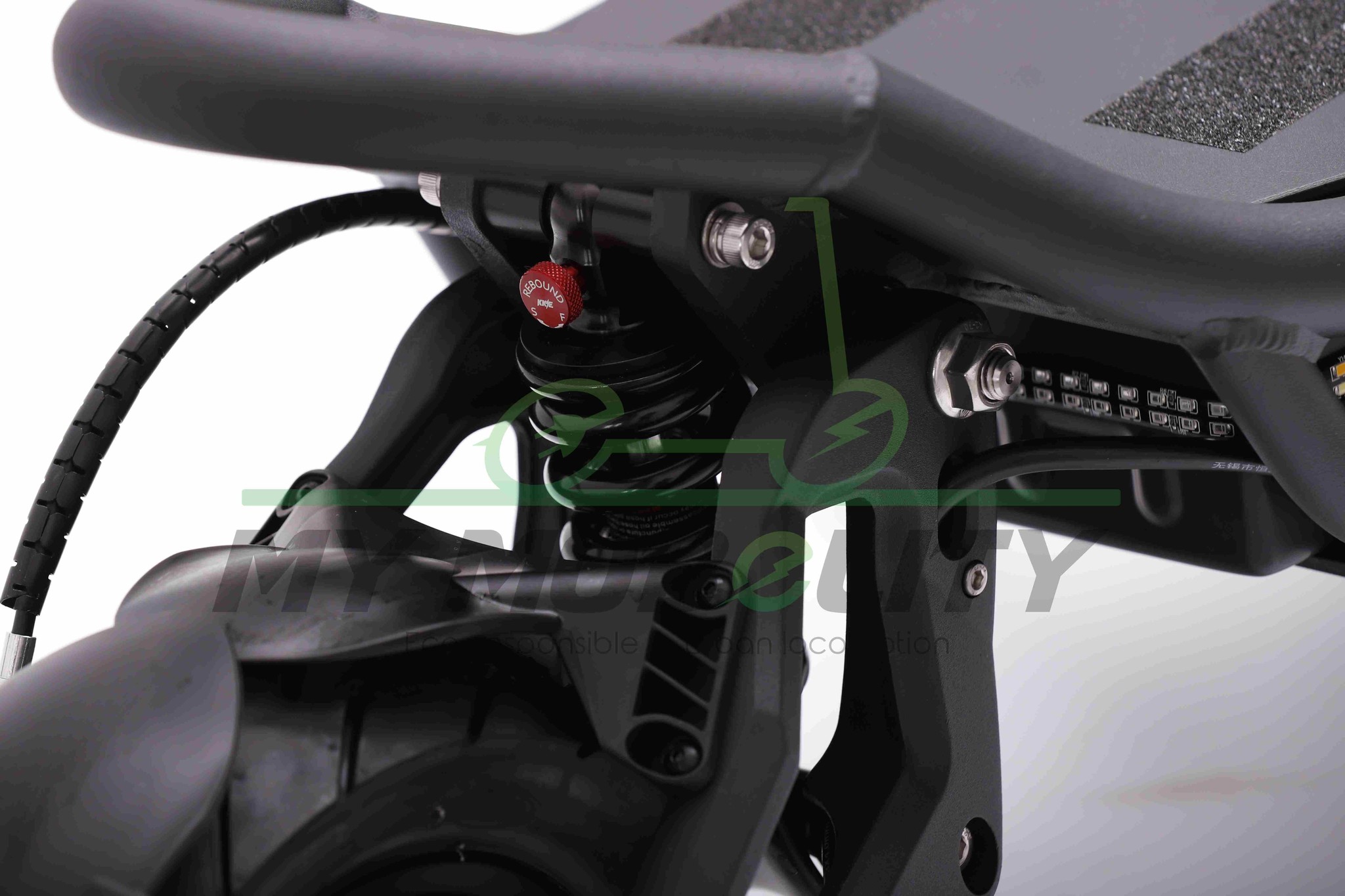 The steering column is entirely in carbon, the frame in 6082 aviation aluminum and the folding mechanism imagined by Nami is machined in type 304 stainless steel.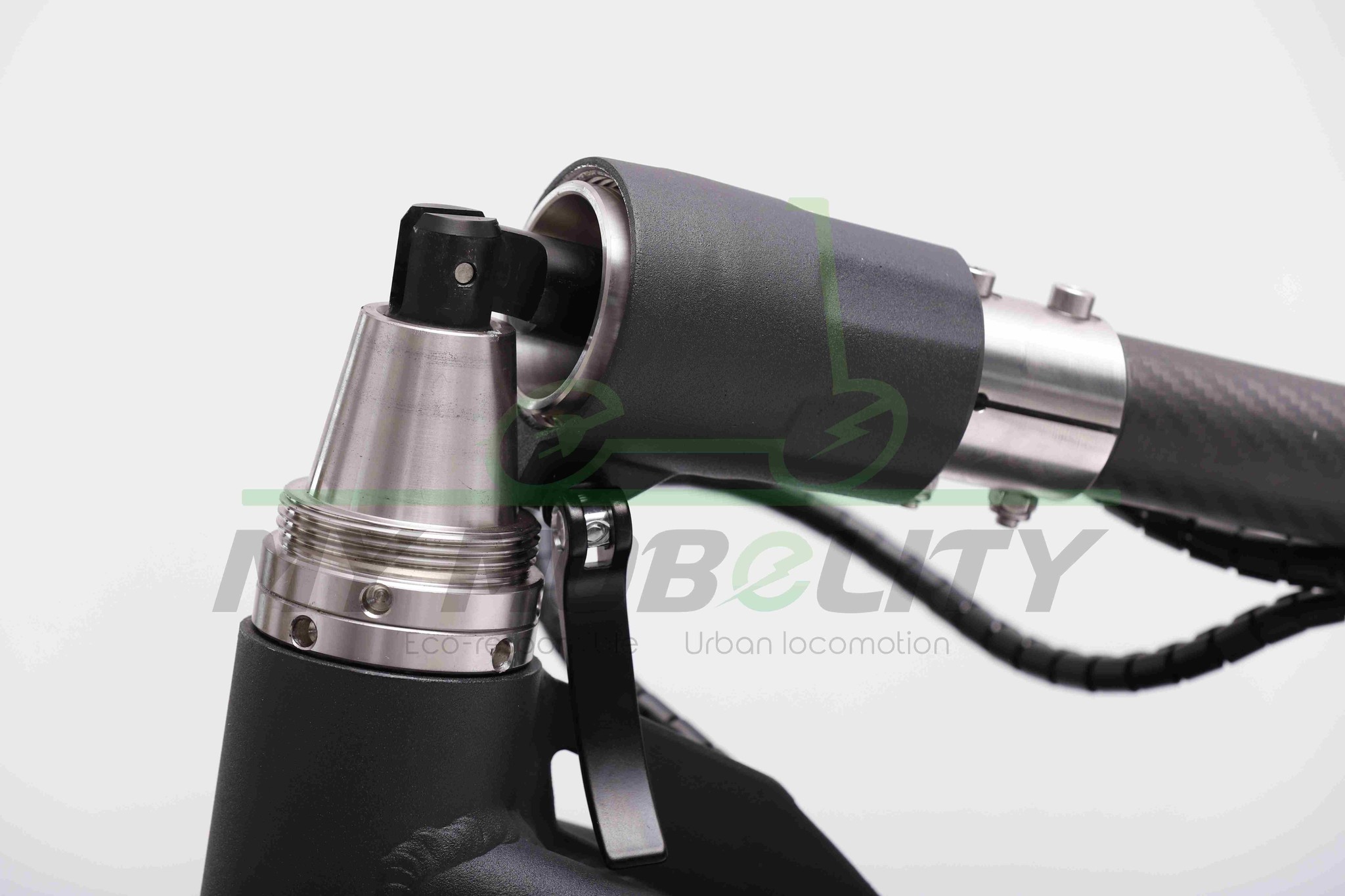 The Nami Viper Burn-e is fitted with 90 / 65-6.5 road or off road tubeless tires on demand, on 11 inches rims.
Note that the Burn-e 3 MAX is also equipped with an adaptative cruise control: activate, increase or decrease your cruising speed by a simple thumb pressure!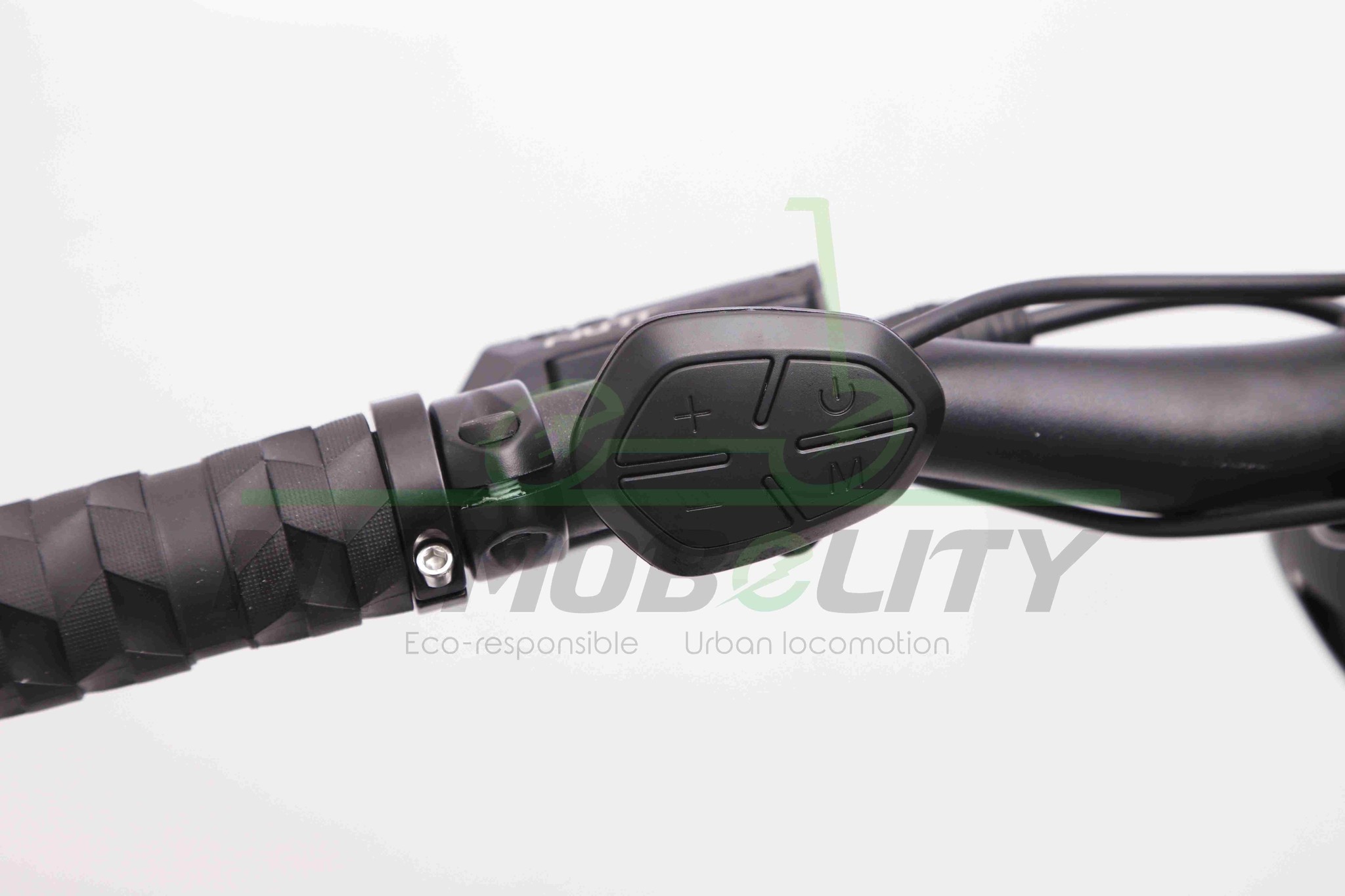 Technical data
Motor
2x 1500W (peak @8400W)
Suspension
Adjustable Hydraulic Coil Absorber - 165mm
Brake type
LOGAN Hydraulic disc brake front + rear and electric brakes
Type tire
CST Tubeless 90/65-6.5
Charger
2x 84V 2.8Ah Standard
Kinetic Energy Recovery System
Yes
Dimensions
134.6cm x 62cm x 144.6cm / Folded: 134.6cm x 62cm x 64cm
Optional fast charger
Yes
years warranty on the E-scooter
year warranty on the battery
first service after 200 km free
discount on wear parts after purchase
discount on replacement battery